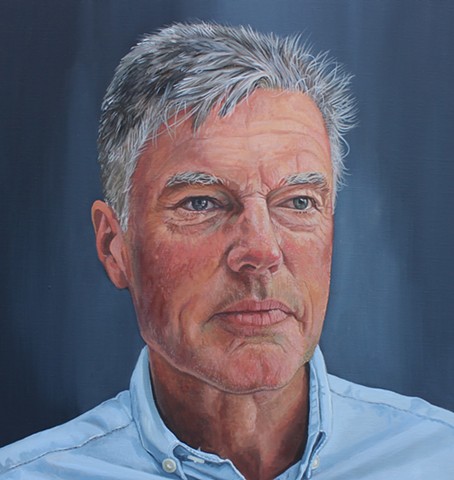 About Me
Unfortunately, I will not be taking commissions for the foreseeable future. I will update here when this changes. Existing paintings are available for sale as normal. Thank you for your understanding - Heloise
'A natural success story and always a positive presence. She is drawn to bright colours, fancy dress and quirky styles, resulting in portraits that exude a unique joie de vivre. This explains her loyal following in Cambridge, and why her work is so rapturously received by the public.'
- D.C Gallery, London
I see beauty in every face. Skin and eyes rich with colour and line have drawn me in every day since I was sixteen, when I realised that portraiture was the only path I would be truly happy following.
I was seventeen when I had a portrait selected for exhibition at London's Mall Galleries, and after that I was relentless in my quest to make painting my life. I studied at The Heatherley School of Fine Art in Chelsea until 2008 and have exhibited in various shows around Cambridge and London since then.
My work has featured several times in the National Press, and on BBC1.
Over the years I have undertaken many commissions of adults, children and professionals as well as working on more narrative paintings in my own time.
I currently have portraits at both Madingley Hall and The Department of Applied Maths and Theoretical Physics in Cambridge.
I throw myself in to each painting with all my focus, not letting it out of my grasp until I know it is the best I can make it. My aim is to portray people as I see people: beautiful, dignified and enchanting. I enjoy the process of taking a composition from idea to canvas through the medium of paint, and I believe very deeply in keeping a traditional skill and practice alive
Images are Copyright Heloise Toop. Please do not use without permission.